Hi There,
My name is Byron Creavin Jerwood, and this term at Stage2, I will be directing a 10 minute extract of Sir Arthur Conan-Doyle's The Hound of the Baskervilles (adapted by John O'Connor).
One of the most iconic English stories to date, THotB features the enigmatic Sherlock Holmes and his sidekick John Watson attempting to solve the case of the mysterious deaths befalling the Baskerville household. In this short article I will be talking about how I am feeling about the coming term, the first time I will have ever directed.
One of the things this term that I am very excited about is the Blocking process (a time when you put your actors on the stage and decide where they're moving from and to) as I have always loved it. In my opinion it is the best part of the term because it's when your piece becomes very clear and you start to see your vision coming together. I am also looking forward to seeing the run halfway through the term – it should hopefully be glorious!
One of the things I'm not looking forward to that much is assigning roles and paperwork – this is something I know I struggle with but I'm confident I can find ways to get around that. Asking my peers to proof my work before they're finalised (and things like that) are good ways to ensure everything keeps on-track. I think this term will be a great experience.
By Byron C-J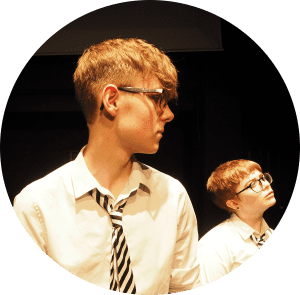 About the Director:
 Byron Creavin-Jerwood has been in Stage2 for just over 5 years now. He is currently a  second year Mentor on Stage2's MBF Approved Mentoring Scheme. Byron's most notable role in Stage2 to date was the brilliantly portrayed Salty in John Godber's Teechers. This term Byron will be directing The Hound of the Baskervilles, based on the story by Sir Arthur Conan-Doyle, adapted by John O'Connor, by arrangement with OUP.
Up Next:
Want to find out more about the Directors and what they'll be producing this term? Our next blog post will be about these Young Directors, their pieces and why you should come and see them!
Regular updates every Thursday!