About Us
Stage2 is Birmingham's Busiest Youth Theatre, with a 28 year history and reputation for high quality shows, workshops and work experience. We run on Saturdays during Term Time at Millennium Point in Birmingham City Centre. Anyone aged 7-21 can join, with no audition required! Stage2 do at least 3 Productions a year, as well as workshops in not only General Drama, but Offstage Topics (including Technical Theatre training!).
We also have a group specifically for 7 – 10 year olds, Stage1 introducing members to basic drama skills as well as making friends and having fun. We also provide Work Experience in Marketing, Fundraising and Leadership, as well as the chance to gain extra qualifications through doing LAMDA Exams – we pride ourselves on being 'More Than a Youth Theatre'. Stage2's number one rule  is that no one is ever left out at any time, we are an all-inclusive company with a reputation for being extremely welcoming and friendly to all.
Autumn Term 2016
Stage2's Autumn Term starts on the 24th September @ 9.30am
Jam packed with fantastic options for all ages (7-21), levels of experience and confidence, the Autumn Term has something for everyone, from taking part in a World Premiere or gaining first hand Work Experience. There's also our fantastic informal options for Members who want to take it easy, learn new skills and make new friends: General Drama & Stage1 (7-10).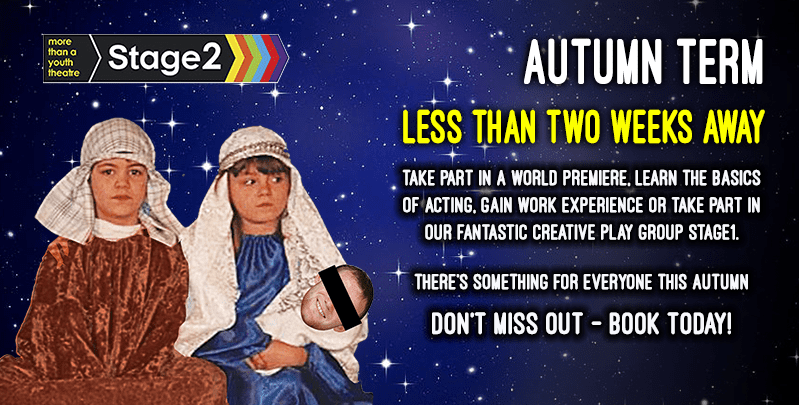 Join Us
Do you like performing in shows, in workshops or even solo? Maybe you want to try your hand at Technical Theatre? Perhaps you want to gain real business experience? Could it be that you just want to make lots of friends and build your confidence? For any of those reasons and so many more, come and join Stage2! We promise there is something for everyone and guarantee that you'll have lots of fun and make great friends doing it. Everyone who joins is given a Mentor Buddy in their first term who helps introduce you to Stage2 and makes sure you're settling in ok. We promise that Stage2 can help you and give you incredible opportunities that you will value and use throughout your life.
Click the link below for more information on the Spring Term including prices, options & ways to book!
c/o Stage2
12 Valentine Road
Kings Heath
Birmingham
B14 7AN
Rehearsal Space
Millenium Point
Curzon Street
Birmingham
B4 7XG