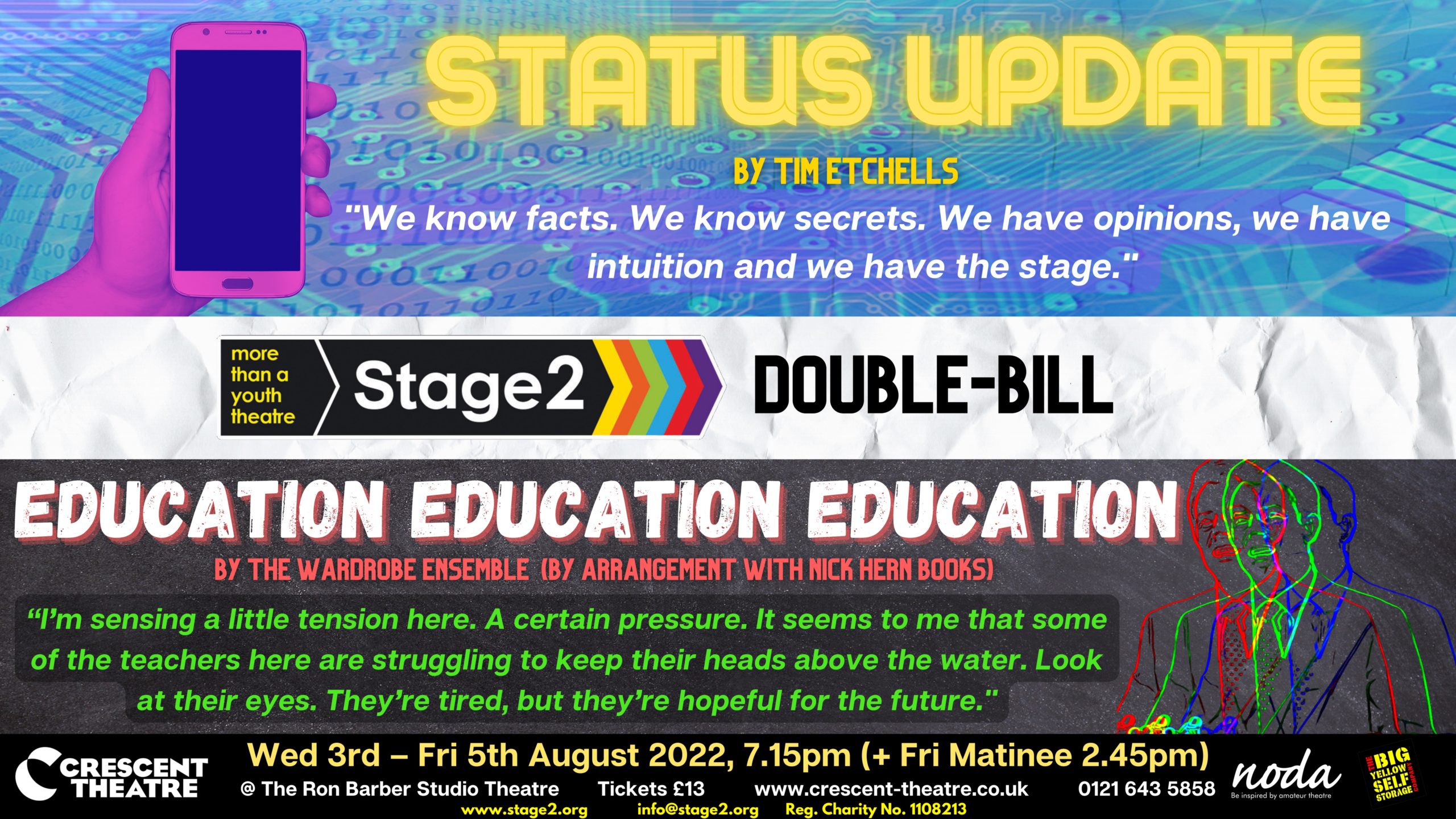 Stage2 are thrilled to be announcing our triumphant return to the stage with our Double-Bill of Status Update, by Tim Etchells, and Education Education Education, by the Wardrobe Ensemble.
After almost three years off the stage, Stage2 is ready to make a bold return with two exciting pieces of contemporary theatre performed by an ensemble of 60 of Birmingham's young people.
Status Update, by Tim Etchells
"We know facts. We know secrets. We have opinions, we have intuition and we have the stage."
Originally written as part of The National Theatre's Connections Programme in 2017, Status Update is an unflinching and funny catalogue of the things children and teenagers learn, believe and have sussed out about the world. From the ridiculous to the highly charged, all these truths and half-truths are laid bare before us, without the safety net of character or fiction. This play is the result of Stage2's 'Play in a Week' project from 25th-29th July 2022.
Education Education Education, by The Wardrobe Ensemble (by arrangement with Nick Hern Books)
"I'm sensing a little tension here. A certain pressure. It seems to me that some of the teachers here are struggling to keep their heads above the water. Look at their eyes. They're tired, but they're hopeful for the future."
Set in a British Secondary School on the 2nd May 1997, Education Education Education follows Wordsworth Comprehensive School on its remorseless slide into chaos. As members of the teaching staff struggle to deal with the demands of their job, their unruly students, and their various personal issues, we explore the question: who, ultimately, is responsible for the education of our children and how far should they go to see them succeed?
Get your tickets!
Performances on: Wednesday 3rd – Friday 5th August 7.15pm (+ Friday matinee at 2.45pm)
At The Ron Barber Studio Theatre, Brindley Place, B16 8AE
Tickets £13 available at www.crescent-theatre.co.uk or 0121 643 5858
c/o Stage2
12 Valentine Road
Kings Heath
Birmingham
B14 7AN
Rehearsal Space
Queensbridge School
Queensbridge Road
B13 8QB
Stage2 Ltd. is a Limited Company with Charity Status registered in England & Wales
Company Reg. No: 5317309                 Reg. Charity No.: 1108213
Registered Offices: 12 Valentine Road, Kings Heath, Birmingham, B14 7AN